Compulsory Basic Training (CBT)
Courses run 7 days a week.
Book youR course HERE.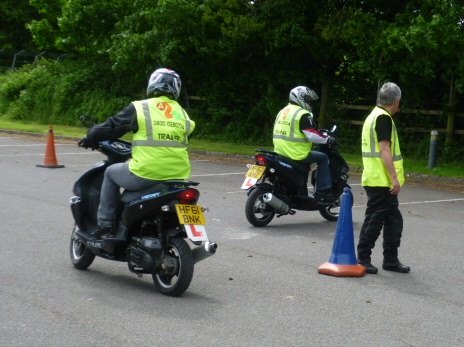 To get on the road you need a CBT certificate*. This qualifies your provisional motorcycle licence. If you're 16 this will allow you to ride a moped (50cc restricted to 28mph). If you're over 17 you can ride up to a 125cc motorcycle (power restricted to 14.6bhp).
The certificate is valid for two years. You can renew your certificate indefinitely by retaking a CBT course, or you can get your full licence.
The day consists of 5 elements:
Element A - Introduction

Element B - Practical On Site Training

Element C - Practical On Site Riding

Element D - Safety Talk

Element E - Practical On Road Riding
On successful completion of the course you'll be issued a Certificate of Completion of Training (DL196).
We start the day at 9am and the finish time is dependant on the group size and riding ability, but a typical finish time would be around 4-5pm.
We can supply all necessary equipment and clothing - you'll just need to show up with your UK driving licence (provisional or full).
Make sure you bring a packed lunch, or money to buy it - the Hamworthy Club has a fantastic restaurant.
We run courses 7 days a week, including Bank Holidays.
Course prices are as follows:
£130 using your own bike
£140 using a school bike
We ask for a £45 deposit to book and the balance is paid on the day.
Prices included fuel, insurance, equipment and clothing.
Requirements:
Valid UK driving licence (full or provisional car). Need one? Apply HERE. You will also need a basic understanding of the Highway Code.
Book HERE or call us on
01202 006350
or Contact Us
DVSA approved motorcycle training body (ATB)
*took your car test before 2001? You don't need to do a CBT to ride a moped.